Time Zone :
GMT+2 (+3 during summer time)
Hollidays :
Bairam 19-24 Jan
Sinai Liberation Day-Apr 25
Labour Day-May 1
Celebration of the birth of Prophet Mohamed-May 2
Evacuation Day-Jun 18
Revolution Day-Jul 23
Nile loyalty Day -Aug
Armed Forces Day-Oct 6
Suez Victory Day-Oct 24
Feast holiday-Nov 13-16
Victory Day-Dec 23
Int. Dial Code :
+20
Currency :
Egyptian Pound (100 Piastres)
Capital :
Cairo
Capital Airport :
Cairo International Airport (CAI)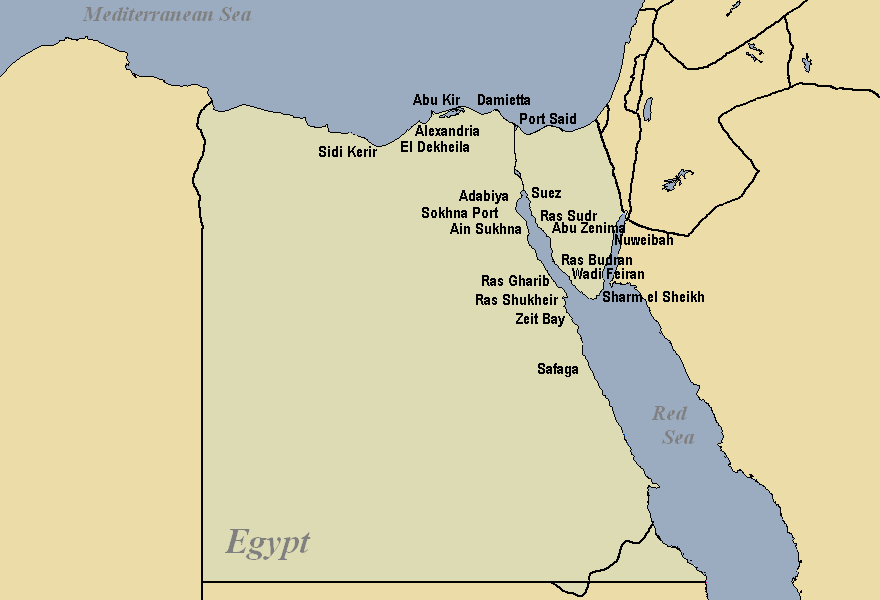 Economy – overview
Egypt improved its macroeconomic performance throughout most of the last decade by following IMF advice on fiscal, monetary, and structural reform policies. As a result, Cairo managed to tame inflation, slash budget deficits, and attract more foreign investment. In the past three years, however, the pace of reform has slackened, and excessive spending on national infrastructure projects has widened budget deficits again. Lower foreign exchange earnings since 1998 resulted in pressure on the Egyptian pound and periodic dollar shortages. Monetary pressures have increased since 11 September 2001 because of declines in tourism, Suez canal tolls, and exports, and Cairo has devalued the pound several times in the past year. The development of a gas export market is a major bright spot for future growth prospects.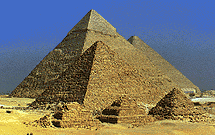 GDP: purchasing power parity – $258 billion (2001 est.)
GDP – real growth rate: 2.5% (2001 est.)
GDP – per capita: purchasing power parity – $3,700 (2001 est.)
GDP – composition by sector: agriculture: 14%
industry: 30%
services: 56% (2001)
Population below poverty line: 23% (FY95/96 est.)
Household income or consumption by percentage share: lowest 10%: 4%
highest 10%: 25% (1995)
Distribution of family income – Gini index: 29 (1995)
Labor force: 20.6 million (2001 est.)
Labor force – by occupation: agriculture 29%, industry 22%, services 49% (2000 est.)
Unemployment rate: 12% (2001 est.)
Budget: revenues: $21.5 billion
expenditures: $26.2 billion, including capital expenditures of $5.9 billion (2001) Industries: textiles, food processing, tourism, chemicals, hydrocarbons,
construction, cement, metals
Industrial production growth rate: 1.8% (2001 est.)
Electricity – production: 69.592 billion kWh (2000)
Electricity – production by source: fossil fuel: 77%
hydro: 23%
other: 0% (2000)
nuclear: 0%
Electricity – consumption: 64.721 billion kWh (2000)
Electricity – exports: 0 kWh (2000)
Electricity – imports: 0 kWh (2000)
Agriculture – products: cotton, rice, corn, wheat, beans, fruits, vegetables; cattle, water buffalo, sheep, goats
Exports: $7.1 billion f.o.b. (2001 est.)
Exports – commodities: crude oil and petroleum products, cotton, textiles, metal products, chemicals
Exports – partners: EU 43% (Italy 18%, Germany 4%, UK 3.2%), US 15%, Middle East 11%, Asian countries 9%, (2000)
Imports: $164 billion f.o.b. (2001 est.)
Imports – commodities: machinery and equipment, foodstuffs, chemicals, wood products, fuels
Imports – partners: EU 36% (Germany 8%, Italy 8%, France 6%), US 18%, Asian countries 13%, , Middle East 6% (2000)
Debt – external: $29 billion (2001 est.)
Economic aid – recipient: ODA, $2.25 billion (1999)
Currency: Egyptian pound (EGP)
Currency code: EGP
Exchange rates: Egyptian pounds per US dollar – market rate – 4.5000 (January 2002), 4.4900 (2001), 3.6900 (2000), 3.4050 (1999), 3.3880 (1998), 3.3880 (1997)
Fiscal year: 1 July – 30 June
 
Egypts Background
The regularity and richness of the annual Nile River flood, coupled with semi-isolation provided by deserts to the east and west, allowed for the development of one of the world's great civilizations. A unified kingdom arose circa 3200 B.C. and a series of dynasties ruled in Egypt for the next three millennia.
The last native dynasty fell to the Persians in 341 B.C., who in turn were replaced by the Greeks, Romans, and Byzantines. It was the Arabs who introduced Islam and the Arabic language in the 7th century and who ruled for the next six centuries. A local military caste, the Mamluks took control about 1250 and continued to govern after the conquest by Egypt by the Ottoman Turks in 1517.
Following the completion of the Suez Canal in 1869, Egypt became an important world transportation hub, but also fell heavily into debt. Ostensibly to protect its investments, Britain seized control of Egypt's government in 1882, but nominal allegience to the Ottoman Empire continued until 1914. Partially independent from the UK in 1922, Egypt acquired full sovereignty following World War II. The completion of the Aswan High Dam in 1971 and the resultant Lake Nasser have altered the time-honored place of the Nile river in the agriculture and ecology of Egypt.
A rapidly growing population (the largest in the Arab world), limited arable land, and dependence on the Nile all continue to overtax resources and stress society. The government has struggled to ready the economy for the new millennium through economic reform and massive investment in communications and physical infrastructure.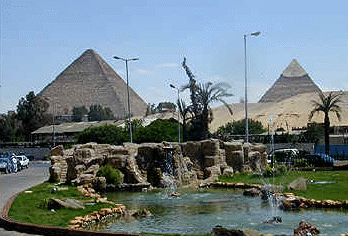 View of the Pyramids from Mena House Hotel, Cairo