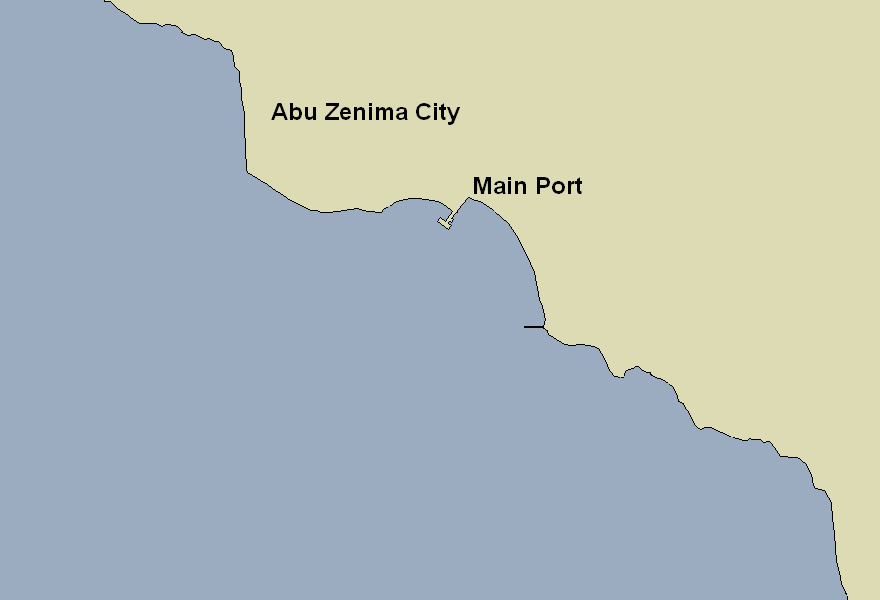 Approach
Abu Zenima Bay is entered between Ras Abu Zenima and Cairn Point with a draft of 18 meters. A sand bank extends offshore about 1295 m from Ras Abu Zenima, marked by a conical buoy.
Anchorages
Good anchorage may be obtained in depths of 18 meters in shelter from NW and N winds. Berthing operation starts early morning.
Pilotage
Pier Master will assist vessel getting alongside.Tug is not necessary. Maneuvering by Ship Master during daytime
Berth

General cargo

 Berth
Type
Draft (m)
Length (m)
Comment
1
Bulk ore
10
48
 
2
General Cargo
5
52
 
Cranes
There is a shore crane on the pier (eastwards) 
Facilities
An ore transporter belt is mounted on the quay side with an moveable arm Automatic packaging system for cereals
Working Speed
Maganize and clay/raw stones at a loading rate approx. 1000 t/day
Airdraft
Height from waterline to top of hatches should not exceed 9.75 m
because of the conveyor belt.
Vessels can lie alongside pierhead for bowhawser. A pier extends 133 meter from shore. The pier is fitted with a shore crane eastward of the pier which is constructed by concrete.