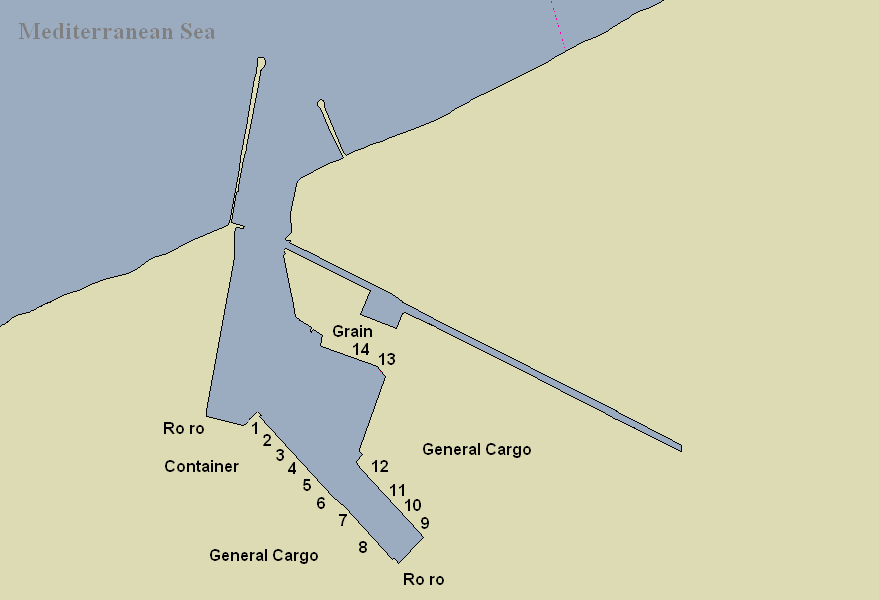 Approach
The enterance channel is 11 kilometers long. Depth 15 meters the channel is 300 meters wide reduced to 250 meters by the breakwaters.
Anchorages
There are 5 buoys that constitutes the waiting area. Depth is 18 meters
Pilotage
Compulsory. Must be anounced and confirmed prior to ETA. Radio frequency is VHF 16.
Berth

Damietta

 Berth
Type
Draft (m)
Length (m)
Comment
01-04
Container/Roro
14,5
1000
 
05-12
General Cargo
12
1700
 
13-14
Bulk Cargo
14,5
600
 
Largest vessel handeled
Container: 55,889dwt
General/bulk: 39,537dwt
General Cargo: 65,000dwt
Cranes
Three mobile Tower Cranes of 40 t cap
Two mobile cranes of 25-40 t cap
One Rough Terrain crane of 40 t cap
Two Telescopic cranes of 16.5 t cap
Two Forklift trucks of 15 t cap
Two Forklift trucks of 5 t cap
Two Forklift trucks of 5 t cap
Container terminal
Four Gantry cranes of 40 t cap
Four telescopic Front-end-loaders
Two telescopic Front-end-loaders of 25 t cap
Two telescopic Front-end-loaders of 15 t cap
Grain:Two Suction uploders
Working Speed
Grain: vacumators works 700 t/hour each
Bulk Wheat: 9.000 t/day
Container Cargo: worked 60 movement/hour (for four cranes) and 300 movements/day pr crane (three shifts/8 h)
Timber: 200-400 t/shift/hold
Packed Cargo: 200-250 t/shift/hold
Equipment: 200-300 t/shift/hold
Speed: The terminal has two suction unloaders with a capacity of 700 t/h each
Day capacity for unloading grain is 7000/8000 m ton/day.
Two cranes are available with a two legs maximum discharging rate of 23.000 m ton/day. These cranes are only fitted for discharging into the silo.
Storage
There is a grain silo with a capacity of 100.000 t.
The only commodity accepted for the silo is berth grain.
On special request Corn can also be accepted.
Special Facilities
Behind the silo there is a barge basin with a depth of 5.0 m allowing loading inland crafts which then can transit the 4.5 km long channel to the river Nile.
Storage
5400 TEU
Reefer points
96
Damietta Container & Cargo Handling Co
Tel: +20 (57) 326846
Tel: +20 (57) 326847
Fax: +20 (57) 326845